About the Authors
Gayle Brook, BOccThy. A.T.C.L. (Speech & Drama), is a private practitioner in Brisbane, Australia with a special interest in helping children discover their own learning potential. A graduate of The University of Queensland, Australia in 1988, she gained experience as a student in Toronto, Canada and has also worked in South Carolina in the United States. Gayle has worked in schools and in private practice since returning to Australia in 1991. She enjoys incorporating drama and lots of fun, fine motor activities into her occupational therapy sessions. Gayle is married and the mother of two beautiful girls.
Amy Wagenfeld, PhD, OTR/L, has been a practising occupational therapist for 20 years. She has worked in such practice areas as gerontology, rehabilitation, and for the past 17 years, paediatrics. Amy earned a BS in occupational therapy, an MA in human development, and a PhD in early childhood education. She currently teaches at a Boston area college, provides school-based consultative services, and maintains a private practice. Amy lives in suburban Boston in the United States with her husband and terrific 17-year-old son.
Cathy Thompson enjoys helping children with special needs and has worked for Education Queensland for 12 years as a teacher aide. She is currently working as a research assistant at Queensland University of Technology, Australia. With a career background that includes devising and running intervention programs for children with physical impairments and running gymnastics programs for Local Authorities in the United Kingdom and Australia, she has been successfully running the Fingergym program for several years in a Brisbane primary school. Cathy lives in Brisbane, Australia with her husband and three grown-up children.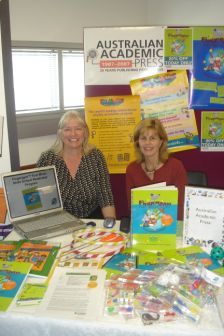 Cathy (L) and Gayle (R) at a Fingergym display stand, August 2007.

Amy (L) preparing for her Fingergym Keynote presentation at the Michigan Occupational Therapy Association Conference, 2007.